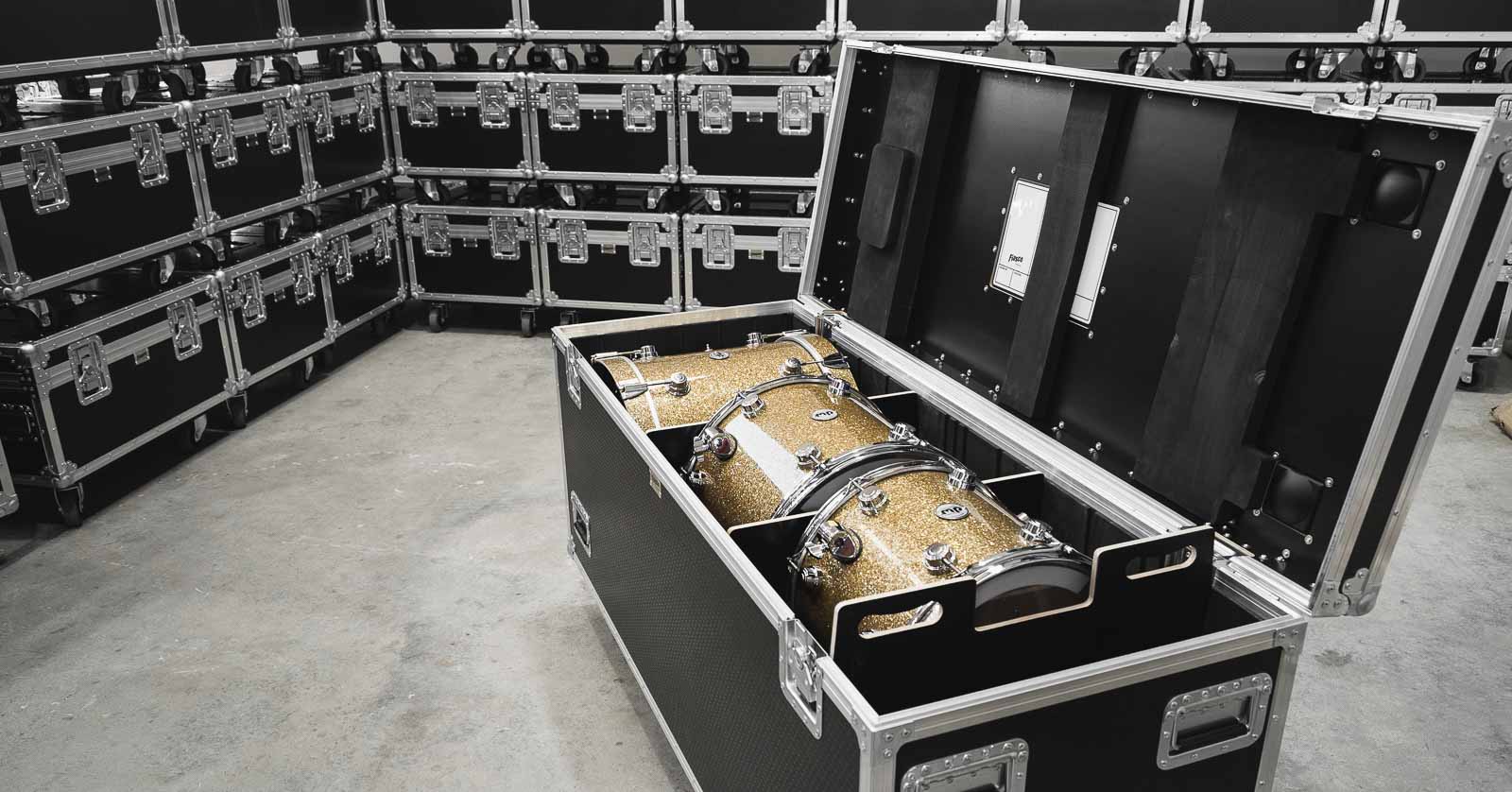 Everything in its right place
We design and build innovative, robust road cases, shock racks and drape kits. Simple.
Our Tale:
The show must go on (in an orderly fashion).
These boys love rock n' roll—but they want it to be organised. When Matt and Joe began their careers touring, they soon discovered a problem. They found that the sophisticated equipment used to create event magic (lighting, sound and staging gear) was often transported and stored in a not-so-sophisticated way. Old cardboard boxes stacked higgledy-piggledy. Lighting gear strewn about willy-nilly. Power cords tangled up all helter-skelter. And when road cases were used they were sometimes a bit rubbish - flimsy, short-lived boxes that didn't stack together properly. So they founded Fiasco with a vision of making road cases that weren't, well, crap. Determined to put an end to inefficiency and chaos, the pair set about designing their dream road cases for better touring. The result? A range of road cases, shock racks and pushup drapes that are heavy-duty, long-lasting, space-efficient and totally kick-ass.
Our Traits:
crazy About Road Cases.
What are we all about? This right here:

Über-efficient system. Each case is made to exact and consistent dimensions so they fit together and stack perfectly. It's a system approach to touring.
Top-quality everything. We don't settle for second-best. Each component is hand-picked to ensure that each product is tough and reliable from top to bottom.
Unbeatable service. We'll bend over backwards for our customers. Need answers? Need customising? Need anything? You got it.
Crazy about road cases. Dunno what it is but there's something about quality road cases, stacking and fitting beautifully, that just really floats our boat. Weird, right?
A storage system as exquisitely precise as a Swiss watch.
Fiasco road cases come in a wide range of different sizes but — here's the genius part — they're made to fully compatible dimensions. That means, whether stacked or side-by-side, our road cases all fit together, creating a flawless interlocking system. It's like playing Tetris (and to think your mum said spending summer days playing 80s video games was a waste of time. Pfft!)
It ain't easy being a road case. All that pushing and shoving, stacking and packing. That's why we've engineered ours to the highest industry standards. We use crème de la crème zinc-plated Penn Elcom hardware and maintain that superior standard throughout the design, including lightweight resin-impregnated ply and durable foam lining. So go ahead; do your worst. You won't hurt 'em. They just keep going...and going...and going…
Flawless drapes that go up in a flash.
You won't find a better drape system, guaranteed. Here's why:
Height markings—pushup poles go to the right height, lickety-split
Crossbar pockets—no messing around with fiddly ties
Tabs—dress your pushup poles so they're showing no leg
Velcro—easy overlapping with velcro that aligns every time
And forget the headache of buying draping, getting each part separately from different manufacturers and then hoping like crazy it'll all work together (c'mon, we all know it won't). Let us make life easy for you. Fiasco drapes come as a kit: drapes, pushups, base plates in one beautiful system. And, of course, it's all housed in our purpose-built road cases. Just roll 'em out and roll 'em back in again. Couldn't be easier.
Exceptional construction, inside and out.
Fiasco SLAM Racks pack some serious swagger. These racks aren't just good; they're the top dogs in the game. Born from extensive tours, research, and rigorous ride-or-die road testing, they've worked hard to earn their stripes.
Featuring dedicated cable space for optimal airflow and the ability to leave your gear plugged during transit, these racks truly make touring a breeze.
Each Fiasco SLAM Rack features a Penn R8800 Anti-Vibration Shock Rack, which offers unbeatable impact protection and cushioning for your equipment.
The secure SLAM door on hinged sliding rails stows neatly inside the rack and allows easy access to your gear. Lid-related headaches not included.
Product Specialist:
Nick Reeves
Since 1998, Nick has specialised in lighting, illuminating stages on a worldwide scale. From London to New Zealand, theatre to rock n' roll, he's done it all. Today, his key role is to understand the vision and technical needs of our customers, and to communicate them clearly to the design and manufacturing team. The goal? The strongest solutions to our customers' needs possible, that work with the Fiasco packology system each time. It's the problem-solving, tech, geekiness, and design aspects of the job that make him tick. Even in his spare time, Nick's joy is sparked by tinkering with motorbikes, playing in his shed, and cruising around his hobbit home on his tractor—all in the name of ingenuity.
CUSTOMER PROJECT MANAGER:
Finn Trimble
Finn joined the Fiasco team during our pandemic pivot into Work From Home Desks. The inspiration for our WFH Tall Desk (at 6"4, we had to custom make him a desk) it's not just his height that makes him stand out. As our Customer Project Manager in New Zealand, Finn channels a Sherlock Holmes-level curiosity that would make even the famous detective do a double-take. Seriously though, he maps out customer queries like he's unraveling a complex case, always on the hunt for the most ingenious solutions and golden results! Dedicated, determined and passionate, he's also a professional-level squash player—so feel free to serve him a tough ball if you have to, and watch him go above and beyond to help you win!
Owner / Head of Marketing & Sales:
Joe Bradford
If there's a problem, Joe will find a solution. That's just the kind of guy he is. Maybe it's having been exposed to so many other cultures; since childhood, he's lived in five countries across Asia, North America and the Pacific. Maybe it's his experience with large events; he's been managing music, corporate and church events since 2007. Maybe it's his business education; he has a couple of degrees including a Masters in Global Studies from Columbia International University (South Carolina, USA). Or maybe it's just in his DNA, born with a knack for logistics and coordinating resources. But whatever the reason, one thing's for sure: when faced with a challenge, Joe knows how to get the job done.
Owner / Head of Design:
Matt Waterhouse
Quality, accuracy, rigour—these are a few of Matt's favourite things. Oh, and did we mention rock n' roll? Having trained in electrical engineering and robotics for manufacturing, Matt took his technical expertise to the stage, working with the acts such as Dave Dobbyn, Brooke Fraser and Rapture Ruckusi n tours throughout New Zealand and the USA. Then he ran off and joined the circus—Cirque du Soleil, to be exact—working for 4 years in the automation department on the Cirque show Zaiain Macau. Described by one client as "the guy with the German precision", Matt now channels his obsession with quality into designing legendary road cases and drapes. Before a product gets to you, it has to get past Matt first.
Senior Designer:
Daniel Joblin
Dan's impeccable design finesse and driven work ethic is the result of several years of hands-on manufacturing experience, first crafting products from plywood and aluminium in New Zealand and China, and later overseeing various teams, machines and manufacturing facilities. Today, Fiasco's commitment to making top-notch cases fuels his passion, and he's on a mission to make the best cases in the world. Outside the design realm, he's an avid hydrofoil surfer and mountain biker who cherishes family time. There's also something deliciously quirky about Dan—he keeps an ever-replenishing stash of noodles at work, a nod to his love for Asian cuisine.
Product Designer:
RYAN HORRELL
Meet Ryan, our Product Design ninja! With a 3rd-degree black belt in Goju Ryu Karate and a BA in Design, he's got the skills to roundhouse kick and slice through any challenge - all with the utmost precision, creativity, and discipline. Regularly attending concerts and events, he's not only in tune with what our customers need but also what our products must endure. Couple this industry insight with his passion for designs that are both functional and aesthetically pleasing, and there's no surprise as to why he's such a champ at what he does. Oh, and did we mention he also owns a furniture and home decor business, where he designs and manufactures the products himself?!
General Manager:
Steven Parker
Before steering Fiasco's ship, Steve guided and inspired others as a Youth Pastor, Business Consultant, Clifton Strengths Coach and Outdoor Instructor. Today, he's a master orchestrator of efficiency, creating and managing seamless systems that aren't just about getting the job done - they're about making every work moment sing. Both in the office and in his spare time, climbing, navigating and conquering challenges is a way of life for Steve. He's a pathfinder by design, one that will move mountains just to help you reach your goals and succeed. No matter how tough the terrain, if there's a way forward, he will find it. By the way, Family is everything to Steve, so much so that they're the driving force behind everything he does.
PRODUCTION MANAGER:
Rob Willis
Rob's on a mission to propel Fiasco to new heights, fuelled by 12 years of aircraft manufacturing expertise. Factory systems, lean manufacturing, and logistics—he oversees it all, ensuring we do whatever it takes to supply our customers with what they need, when they need it. His passion for teamwork, constant improvement, pushing boundaries, and efficiency in the supply chain pilot his every move, meaning the sky's not the limit to what can be achieved, it's infinity, and beyond! At home, you can find him treasuring his family, jamming to his old piano, head-banging to hardcore rock music, and avoiding anything that smells like egg. Legend has it he's also a bit of a zen master in the making, which we can only assume is the magic behind his clear, calm, and collected approach to getting things done.
Workshop Manager
Luke Powell Phelps
Luke has worked in the field of manufacturing for more than half of his life, starting out as a Tiler's Apprentice at just 15. Now, he's the driving force behind our workshop operations, where he oversees schedules, maintains impeccable quality control, and fosters a workspace where creativity and precision flourish-to say the very least. When he's not ensuring the warehouse team (the very heart of Fiasco) keeps beating, Luke's passion shines through his volunteer work, where he dances with kids and helps create spectacular biannual shows. He's also lowkey a star comedian in the making, meaning there's always something to smile about when he's around.
Dispatch & Workshop Coordinator
Debbie Norvill
Meet Deb, or as we fondly call her, our Dispatch Queen, Queen D, and Mother Duck. She's the heartbeat of our workshop and dispatch operations, working together with the rest of the workshop team to ensure that everything flows seamlessly. With academic roots in ecology and hands-on experience in the dairy industry, she's the perfect blend of intellect and practicality. When she's not ensuring that our CNC machines and workshop operations run like clockwork, she's tending to various dispatch tasks, adding her quality touch to every facet of Fiasco. Beyond her work, Deb has a deep passion for caring for plants and birds, and loves spending time with her family - a reflection of her nurturing nature.
Finance Manager:
Sarah Lawson
What you see is what you get with Sarah. Her direct approach to life reflects her love for clear-cut solutions—mirroring her passion for finely tuned financial systems. She brings over 8 years of financial expertise to the table, a journey that began in the manufacturing realm and naturally shifted towards accounting and finance management. She's our numbers dynamo, masterfully navigating financial landscapes from analysis and budgeting to tax planning and reporting. Beyond the corners of spreadsheets, Sarah values family time and enjoys baking as a hobby at home. It's her way of adding a touch of sweetness to life, just as she does here at the office.
Operational Support:
Hilly Goodwin
Hilly pretty much embodies the Fiasco ethos: organised, efficient, and a teensy bit obsessed with storage. For most of her professional life, she has been making office systems run like a well-oiled machine. And that knack for workplace efficiency is why she's our administrative go-to gal. Her role entails being a hub. Stock oversight, warehouse dispatches, shipping admin, manufacturer comms, deadline management—she does it all, making this place hum. When not at Fiasco, you'll often find her skyping her American family, hanging out with her Kiwi family, or woodworking—making shelves, pot racks, and attic space (told you, obsessed with storage!).
Design Engineer:
Ash Algie
Been there, done that. Toured with Cirque du Soleil? Check. Been in charge of automation there? Yep. Specialised in industrial electrical? Absolutely. Travelled the world? Ah-huh (almost everywhere except Antarctica). Ash has pretty much maxed out his bucket list, so when invited to work for Fiasco back home in New Zealand, he knew it was an offer he couldn't refuse. He traded in his suitcases for road cases. Nowadays, you'll find him applying his natural-born talent for all things mechanical and technical to designing killer Fiasco products with CAD or tinkering with his bike after thrashing it at one of Cambridge's famous cycling spots. 
Creative Director
Brad Dring
With over a thousand live shows under his belt, this guy knows how to put on an event. As the frontman and creative force behind the Billboard chart-topping band Rapture Ruckus, Brad and his band toured the globe, making a name for themselves with their high-energy stage shows and mind-bending live production. Based in Nashville, TN for most of his career, he toured extensively across the US. Bringing his wealth of industry knowledge, in addition to his skills in creative production and direction to the team, his passion for creating inspiring moments, environments and experiences makes Fiasco's brand come to life. When Brad's not creative directing for Fiasco, you'll find him surfing or skating with his boys or working on his latest art project.
Copywriter & Marketing Coordinator
Nicole D'Almeida
Corpus callosum; the tissue that feeds information between your left and right sides of your brain. A geeky creative, this is what Nicole refers to when describing her life's passion and work's purpose—to bridge the gap between creativity and logic. Problem-solving, building relationships, or painting pictures with words—it's her job to communicate our brand clearly. Starting out in Make-Up & SFX for film, she later pursued a BA in Brand Communications. Today, she has taught English in four countries, had her artwork published in the New York Times, worked for GQ and Johnson & Johnson, and gained over 10 years of Copywriting experience. Rumour has it she even worked on set just meters away from Matthew McConaughey—"alright, alright, alright!"
Marketing Coordinator & Assistant
Josh Heath
Josh knows what makes for cutting-edge entertainment, with over 10 years of experience working backstage doing hair and styling for huge shows like NZ Fashion Week, The Bachelor NZ, ID Dunedin, and the VMAs. Since then, he has owned his own gelato store and Web Development Company. Today, he is responsible for crunching the numbers, and developing, coordinating, and executing marketing campaigns—amongst anything else the day throws at him. Out in the wild, Josh can be spotted sprouting new ideas for the garden, creating new hideouts for his beloved cats, or carrying with him a mysterious liquid he feeds to our office plants—what it is, nobody really knows.